9 Carat Purple - Tribute to Seventies Deep Purple
Alexander's Live, Chester.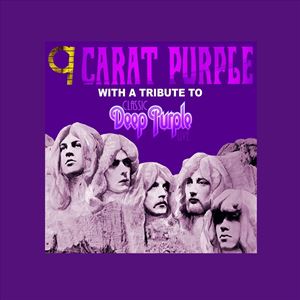 This event is for 18 and over - No refunds will be issued for under 18s.
More information about 9 Carat Purple - Tribute to Seventies Deep Purple tickets
Please note door/start time is subject to change.
Open to customers: Midday - Late
The venue is ticket only from 8pm
Most shows start between 9pm - 9:30pm
I'm a Speed King, see me fly ...
With Ritchie Blackmore (Guitar), Jon Lord (Hammond Organ) and Ian Paice (Drums) driving them on relentlessly, Deep Purple were the best Rock Band that this Planet has ever seen. With their amazing standard of personal musicianship, their collective on-stage chemistry and their "Powerhouse" in-concert performances, no other band has come close to matching them as an all-round package.
During the period of time from July 1969 until April 1975, they were "box office sensations" who played more than 600 packed-out
shows and sold millions upon millions of their records worldwide. In 1973 they were the highest selling music artists in the USA.
The quintessential Mark 2 line-up (which included Ian Gillan on vocals and Roger Glover on bass) and the subsequent Mark 3 line-up (with Glenn Hughes on bass and vocals and David Coverdale on lead vocals) forged the never-to-be-forgotten "In Rock" to "Made In Europe" Era. With their mega-selling singles such as Black Night, Strange Kind Of Woman, Smoke On The Water and Woman From Tokyo and their album classics such as Speed King, Child In Time, Fireball, Fools, Highway Star, Lazy, Space Truckin', Burn, Mistreated and Stormbringer they radically changed the face of rock music in terms of composition and performance.
A few months after those halcyon days ended, their Record Company
celebrated their astonishing achievements by bringing out the first of many compilation albums. Given the countless number of gold records the band had been awarded, they named it fittingly … "24 Carat
Purple".
In the modern day, these five "Purple Obsessed Copyists" have dedicated themselves to reproducing Deep Purple songs from this amazing period of music history. Every time they get together to play (whether it's in rehearsal or on-stage) they face an arduous challenge. They know only too well that they will never be as good as the real thing, which is why they call themselves merely … "9 Carat Purple".
You're racing like a fireball, dancing like a ghost.