A Celebration of Elton John & Billy Joel
Alexander's Live, Chester.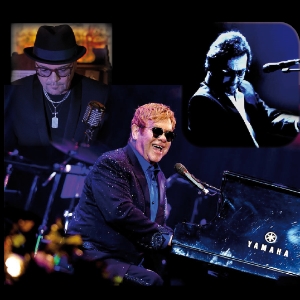 This event is for 18 and over - No refunds will be issued for under 18s.
More information about A Celebration of Elton John & Billy Joel tickets
Your Song – It's Just The Way You Are ….
A Celebration of the Songs of Elton John and Billy Joel
Performed by John Reilly & Lewis Nitikman

Last year, singer songwriter John Reilly and Canadian pianist and songwriter Lewis Nitikman played Alexander's for the first time, celebrating the music of Sir Elton John and were so thrilled by the fabulous feedback and wonderful vibe they received from the sell-out audience, they are delighted to be returning in 2020 and this time they are adding some Billy Joel tunes to their repertoire !!

The concert is not a tribute, but a celebration of the music of Elton John and Billy Joel. John Reilly, whose albums have received both national and international air play, sings the songs very accurately, but in his own inimitable style and also plays percussion and harmonica, Lewis Nitikman, who is Berkelee trained and has produced 3 gold albums in Canada, plays piano and bass keyboards.

This will be a truly unique evening of stunning vocals and outstanding piano, . It is a totally live performance, expect to hear all your favourite Elton and Billy tunes including 'Your Song', 'Piano Man', 'Daniel', 'Uptown Girl', Candle in the Wind', 'New York State of Mind' ,'Goodbye Yellow Brick Road' etc., but also some you may not be so familiar with. It's not a tribute, it's a true celebration of these wonderful tunes.

Please note door/start time is subject to change.



The Return of Full Capacity Shows at Alexander's from 19th July 2021...

The government have now confirmed that full capacity live shows can return in cultural spaces from 19th July. This is incredible news and extremely welcome. However, here at Alexander's we recognise that COVID-19 has not gone away. Therefore, we wanted to let you know that if we all work together you can come back and experience some great live shows whilst keeping as safe as possible.

What we are doing:
- Our ventilation system will be in operation whenever the venue is open, and we will keep a good fresh air supply into the venue. This means we can achieve a higher number of air cycles per hour than what is currently being deemed as excellent for reducing airborne pathogens.
- Additional ventilation has been installed in our toilets.
- UV-C air sterilisation units have been installed and will be in operation whenever we are open.
- Deep cleaning of the venue will take place when we are closed, and extra cleaning checks will be performed when we are open.
- All our cleaning products are Covid-19 safe.
- There will be a Covid-19 cleansing spray used once per day when the venue is closed. This is proven to kill the virus on surfaces for up to 48 hours.
- Providing hand sanitiser at every entrance.
- Fully disinfecting all microphones and stands after use and encouraging performers to bring their own wherever possible.

What you can do:
- Under no circumstances should you attend the venue if you feel you have any Covid-19 related symptoms or think you have come into contact with someone who has.
- Isolate and get tested whenever necessary.
- Wear a mask if you wish to. We will not be enforcing mask wearing but we certainly encourage individual choice in this instance.
- Test regularly and before attending any events.
- Get vaccinated as and when you're able.
- For ticketed events please do not print your tickets but instead show us your tickets on your phone.
- Reduce the use of cash where possible.
- Wash your hands regularly and use the hand sanitising stations.
- Support us in keeping the windows and doors either open or closed as notified by our staff.
- Utilise our outside spaces before and after shows and even in the break.

To be clear we are no longer enforcing any of these rules but in the interests of being kind and mindful of others please do all you can to keep yourselves and others safe.

There is also a lot going on behind the scenes so please do be polite and respectful to our staff.