Clearwater Creedence Revival
Alexander's Live, Chester.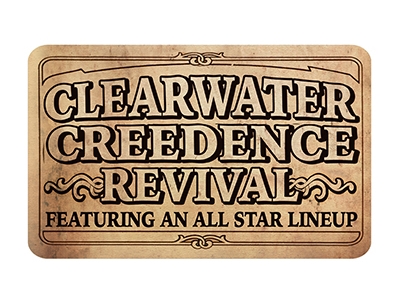 More information about Clearwater Creedence Revival tickets
*This is strictly a seated only show*
Please note there will be no tickets available on the door - advance tickets only
We are really excited to welcome Clearwater Creedence Revival to Alexander's for a special socially distanced and seated show. Things will work a little differently to how they have in the past with an early and a late showing so please note which time you have booked for any ensure you arrive in time to get a drink and take your seats.
- Book your tickets in your total bubble so we know how to safely seat everyone and maximise capacity as tickets for this will be extremely limited.
- Please remain seated as much as possible and adhere to social distancing when queueing for the bar and toilets.
- There are sanitiser stations at each entrance and exit so please do use these.
We will be operating a one way system around the bar area and you will be required to follow this from your seat out of the side conservatory door and either;
- into the garden to join the toilet queue
OR
- back into the venue via the main doors to go to the bar
Staff will explain this to you when you arrive and will be on hand to offer assistance if you require clarification on anything throughout the evening.
We suggest bringing an umbrella or waterproof as you may need to queue outside but we will do all we can to ensure queue times are kept as short as possible.
Our bar staff will be wearing visors and if you are able to we would ask that you do wear a face covering whilst you are not in your seat please do feel free to remove these if you wish when you have returned to your seats.
We thank you in advance for your understanding and cooperation. These are very trying times for us all and we are doing all we can to keep the entertainment going and everyone as safe as possible.
Celebrating 50 years since the legendary Woodstock Festival –
CLEARWATER CREEDENCE REVIVAL – 'live'!
The best tribute to CCR you're ever going to see…
"...polished, professional, tight, high quality... gave the audience an hour and a half long line of the best of the original Creedence hits, in performances that would not embarrass the original ..." (Tel Aviv review, June 2019)
https://youtu.be/wSLtE97lAUY Proud Mary
https://youtu.be/MDoQYlpVtTY Bad Moon Rising
2019 marked the 50th Anniversary of the legendary Woodstock Festival. Along with Santana, Ten Years After, Jimi Hendrix, Joe Cocker, The Who, Janis Joplin and a host of other iconic, or soon-to-be iconic artists, was Creedence Clearwater Revival. Five decades on, the spirit, power and quality of their iconic songs, – 'Proud Mary, 'Bad Moon Rising', 'Have You Ever Seen The Rain' and more are powerfully reprised with Clearwater Creedence Revival - along with material from CCR frontman, John Fogerty – most recently seen on tour with ZZ Top's Billy Gibbons.
" Clearwater Creedence Revival do themselves "Proud" ('...Mary'). The vocalist is a big, bearded fella with a lovely, gravelly voice and he guides us through some classic Country stylings and soothes many a hungover head. 'Bad Moon Rising', 'Have You Ever Seen The Rain' and 'I Put A Spell On You', amongst others, make not being able to get to the bar more bearable, and in a world seemingly overrun with Creedence bands, this lot can hold their heads high above the rest." (ROCKTOPIA, Giants of Rock review)
Selling out at venues all over the world, Clearwater Creedence Revival feature road-hardened players who, collectively have performed with - Stax legend Steve Cropper, Big Country, Denny Laine (Wings, Moody Blues), Eric Haydocks Hollies, Animals And Friends, Alan Silson (Smokie), Wayne Fontana's Mindbenders and more.
The band:
PETER BARTON – vocals, guitar (Animals And Friends, Trevor Burton Band (The Move), The Boomtown Rats (Roberts & Crowe), etc)
ALAN SAGAR - bass
GRAHAM POLLOCK – guitar
GEOFF HAMMOND - drums
Together, they are the best 'tribute' to CCR & Fogerty you're ever likely to see!
"The band took us on a melodic and spirited romp through the Fogerty songbook and related material. There were plenty of spontaneous singalong moments, it being hard to resist the choruses of 'Have You Ever Seen The Rain', 'Bad Moon Rising', opener 'Proud Mary', the choppy swamp rock of Green River. I was pleased they included 'Fortunate Son' and the propulsive 'Run Through The Jungle' – puffing harp break and all, but maybe the best received song was the old folk tune 'Cottonfields'. Every member of this crew plays the numbers with a crisp style that reeks of experience but moreover love. 'Born On The Bayou' captured the classic CCR voodoo vibe. No pseudo Yankee chat, just the songs delivered with a friendly relish" (Pete Sargeant, Under The Bridge, Chelsea review)
Tenacity. Publicity By Perseverance… P.O.Box 166, Hartlepool TS26 9JA UK
Contact: Dave +44 (0)7951 679666 tenacitymusicpr@gmail.com