Dr Clive Jackson of Doctor & The Medics
Alexander's Live, Chester.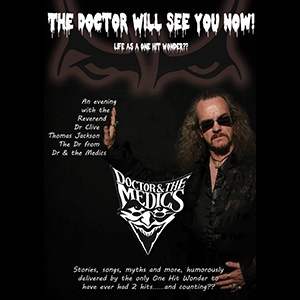 More information about Dr Clive Jackson of Doctor & The Medics tickets
"The Dr Will See You Now – Life As A One Hit Wonder?" is a one (Two) man show featuring "The Dr" Clive Jackson, known best as The Doctor, singer of Dr and the Medics, famous for their massive Number 1 international Hit – Spirit In The Sky.
The Doctor wrote this show in Lockdown, anticipating that comedy clubs and sit-down venues would return before full blown gigs. It worked out well as he did his first performances of the show in 2020, way before venues opened again. Now, even though the band is up and running and going from strength to strength, The Doctor has had such great reactions from this one (Two) man show that he continues to develop and perform it throughout the country.
The show tells the story of this strange band that has simply refused to lay down and die! From it's unlikely conception in 1982, through to having an even more unlikely hit in 1986 with "Spirit in the Sky" and an almost impossible comeback that saw them going into 2020 looking forward to their busiest year for 30 years and a new album on the way.. What could possibly go Wrong!
The show features a well-balanced combination of Music and talk with a lot of humour as The Dr takes you on the roller coaster ride of Life as a "One Hit Wonder?"
We would be delighted to see you at this all seated, up close and intimate show that tries to explain the inexplicable!
Expect the unexpected and you won't be disappointed!