Duran Duranish & System 80s
Alexander's Live, Chester.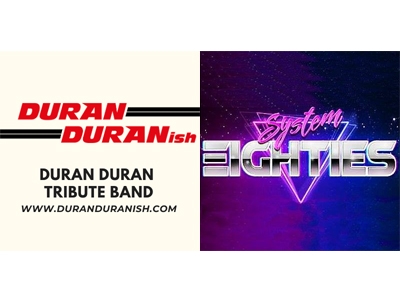 More information about Duran Duranish & System 80s tickets
*This is strictly a seated only show*
Please note there will be no tickets available on the door - advance tickets only
We are really excited to welcome True Gold back to Alexander's for a special socially distanced and seated show. Things will work a little differently to how they have in the past with an early and a late showing so please note which time you have booked for any ensure you arrive in time to get a drink and take your seats.
- Book your tickets in your total bubble so we know how to safely seat everyone and maximise capacity as tickets for this will be extremely limited.
- Please remain seated as much as possible and adhere to social distancing when queueing for the bar and toilets.
- There are sanitiser stations at each entrance and exit so please do use these.
We will be operating a one way system around the bar area and you will be required to follow this from your seat out of the side conservatory door and either;
- into the garden to join the toilet queue
OR
- back into the venue via the main doors to go to the bar
Staff will explain this to you when you arrive and will be on hand to offer assistance if you require clarification on anything throughout the evening.
We suggest bringing an umbrella or waterproof as you may need to queue outside but we will do all we can to ensure queue times are kept as short as possible.
Our bar staff will be wearing visors and if you are able to we would ask that you do wear a face covering whilst you are not in your seat Please do feel free to remove these if you wish when you have returned to your seats.
We thank you in advance for your understanding and cooperation. These are very trying times for us all and we are doing all we can to keep the entertainment going and everyone as safe as possible.
****
DURAN DURANish (formerly Planet Duran) Tribute Band to Duran Duran. We give a high energy, fun but professional show packed full of the fab 5's vast back catalogue of hits ...Is Anybody Hungry because The Wild Boys Are Calling!!!
There will also be a live 80s set with System Eighties bringing you classic 80's songs from the best decade ever! We are a fun, live, 6 piece band comprising of drums, bass, keyboards, guitar with male & female vocals.