Flying Gramophone - March 2018
Alexander's Live, Chester.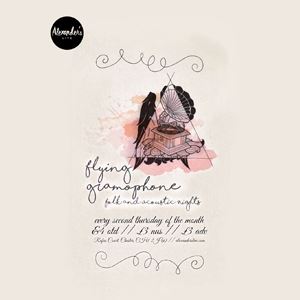 This event is for over 18s only - No refunds will be issued for under 18s.
More information about Flying Gramophone - March 2018 tickets
Flying Gramophone - Thursday 15th March – Olly Squires, Joel Anthony & Cian Salisbury
Our local Folk & Acoustic showcase hosted by contemporary folk trio, Mountainface, returns with extra reasons to celebrate as our good friend Olly Squires launches his 'Stepping Stones' EP!
Isle of Wight based singer/songwriter, Olly Squires began writing what is to be his first official release roughly three years ago. It soon became clear that his exposure to various mental health issues were naturally working their way into his music.
'Stepping Stones' is not intended to be a highly-personal, biographical account, rather it aims to present something universal that should resonate on some level with every listener. An acute understanding of the helplessness of depression; the confusion of illnesses such as BPD, the inconsolable underlining dread that comes with anxiety and the pure destruction that PTSD encompasses, informs the material. At times it can be a difficult listen but that should not deter you, as it carries an extremely organic and honest message, and that is one of hope.
His highly ambitious live set has now moved on from a fusion of jazz and folk to incorporate more ambient, experimental elements - featuring loop pedal work, Native American flute, use of hand cymbals and finger-tapping acoustic originals that draw influence from Jon Gomm, John Butler and Newton Faulkner.
Physical copies of the E.P will be available on the night with all profits donated to a mental health charity.
First gracing us with his presence back in 2015, Joel Anthony flew over from Australia to follow his passion in music. Not even a year later, Joel returned, picking up where he left off with brand new material, playing shows and busking all over the country. Joel's hushed storytelling and dynamic delivery can silence even the largest auditoriums, as proved when he recently opened for comedian John Bishop for a string of dates last year.
Coming from a musical background, Cian has been writing and performing music since his early teenage years. Drawing largely on contemporary folk icons such as John Martyn and Nick Drake for influence, his music also includes elements of jazz and soul, performing both as a solo artist and as part of a band.
DRINKS DEALS // £4 otd // £3 adv or NUS