Friday Night Comedy
Alexander's Live, Chester.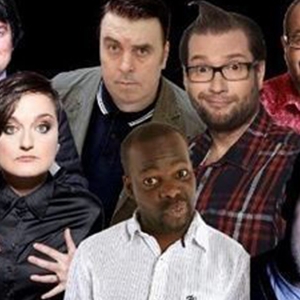 Open air show wet weather policy
We love and we hate our wonderful British weather, don't we? We look forward to summer which is usually experienced for four days in Spring and then have months on complaining about the warm rain… Only to realise we can't wait for Christmas for it to snow, which it never does! The weather is probably the most unpredictable thing we have, well that and our political system. Anyway, hate it or love it we are sure you can sympathise that arranging open air shows can often be preceded by hours of met office weather watching, planning for rain only to see the show go ahead on what turns into the hottest day of the year. Therefore, please read our wet weather policy before booking so you know exactly what's likely to happen;
It is strongly recommended to plan for all weather types. Please pack your own waterproofs, umbrellas, sunscreen and even maybe a towel to sit on!
We very rarely cancel a performance before the time it is due to start. We often find it can be tipping down in the lead up to a performance and then entirely stop for the duration of the show. So, we will usually make the call at the time the performance is due to begin.
We will only cancel/stop a performance if the conditions become genuinely unsafe. If the performance area has begun to flood or if there is a lightning storm we will cancel/stop the performance.
We will carry on the performance in light to medium rain. In heavy/torrential rain downpours we will halt the show (hopefully allowing everyone to find shelter somewhere) before continuing when the downpour has stopped. If the heavy rain is persistent (which is surprisingly rare) then we may make the call to stop the show entirely.
If the show is cancelled before it begins or stopped before the interval then we will reschedule the show and transfer your tickets across automatically. If the date is not suitable then we will offer refunds. If the show is stopped after the interval we cannot offer refunds but are able to transfer tickets to another performance where available.

FRIDAY NIGHT COMEDY brings the very best comedians from the UK and beyond to Alexander's Live in the heart of Chester.
The only weekly comedy night in the city FRIDAY NIGHT COMEDY will keep the laughs coming thick and fast week after week. For each show we provide four brilliant comedians hand-picked to give you the best night out for the lowest possible price.
We also have amazing food and drink offers exclusive to Friday Night Comedy customers so you can have a great night out without breaking the bank.
***Please note that seating is unreserved, on a first-come first-served basis and that all line-ups are subject to change without prior notice***
This event is for 18 and over - No refunds will be issued for under 18s.
More information about Friday Night Comedy tickets
We are really excited to welcome Friday Night Comedy back to Alexander's for a special socially distanced and seated show. Things will work a little differently to how they have in the past so please note arrival time required to ensure you arrive in time to get a drink and take your seats.
- Book your tickets in your total group so we know how to safely seat everyone and maximise capacity as tickets for this will be extremely limited.
- Please bring umbrellas, rain coats and warm clothing as we never know what the weather will bring.
- Please remain seated as much as possible and adhere to social distancing when queueing for the bar and toilets.
- We will only be running an outside bar. Please arrive early enough to get your drinks and take your seats.
We know that rules and regulations change quickly so our staff will explain any current guidance to you when you arrive and will be on hand to offer assistance if you require clarification on anything throughout the evening.
We suggest bringing an umbrella or waterproof as you may need to queue outside but we will do all we can to ensure queue times are kept as short as possible.
Our bar staff will be wearing face coverings and we ask that you do the same at all times if you are able. Please do feel free to remove these when eating or drinking. (Please note we do not provide face masks - There are Alexanders Live ones available to purchase at £10 each)
We thank you in advance for your understanding and cooperation. These are very trying times for us all and we are doing all we can to keep the entertainment going and everyone as safe as possible.