FROM THE JAM 'UP CLOSE & ACOUSTIC'
Alexander's Live, Chester.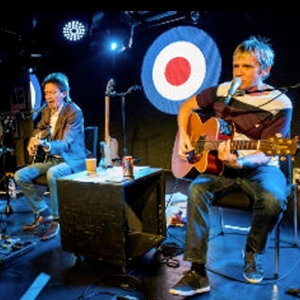 More information about FROM THE JAM 'UP CLOSE & ACOUSTIC' tickets
FROM THE JAM
?UP CLOSE & ACOUSTIC'
WITH BRUCE FOXTON & RUSSELL HASTINGS
UK TOUR

*This is strictly a seated only show*
Please note there will be no tickets available on the door - advance tickets only
We are really excited to welcome From The Jam to Alexander's for a special socially distanced and seated show. Things will work a little differently to how they have in the past with an early and a late showing so please note which time you have booked for any ensure you arrive in time to get a drink and take your seats.
- Book your tickets in your total bubble so we know how to safely seat everyone and maximise capacity as tickets for this will be extremely limited.
- Please remain seated as much as possible and adhere to social distancing when queueing for the bar and toilets.
- There are sanitiser stations at each entrance and exit so please do use these.
We will be operating a one way system around the bar area and you will be required to follow this from your seat out of the side conservatory door and either;
- into the garden to join the toilet queue
OR
- back into the venue via the main doors to go to the bar
Staff will explain this to you when you arrive and will be on hand to offer assistance if you require clarification on anything throughout the evening.
We suggest bringing an umbrella or waterproof as you may need to queue outside but we will do all we can to ensure queue times are kept as short as possible.
Although it is not mandatory to wear a face covering please feel free to do so if you wish and please do whatever you need to to feel safe. (Please note we do not provide face masks - There are Alexanders Live ones available to purchase at £10 each)
Our bar staff will be wearing face coverings and we ask that you do the same at all times if you are able. Please do feel free to remove these when eating or drinking.
We thank you in advance for your understanding and cooperation. These are very trying times for us all and we are doing all we can to keep the entertainment going and everyone as safe as possible.
The Jam are one of the most iconic bands in British history. Continuing to keep the legacy of this illustrious band alive is legendary former member Bruce Foxton as 'From The Jam'. Since forming in 2007, From The Jam have been an unstoppable force, delighting thousands of fans, with their powerful performances at headline-shows and festivals in the UK.
"Blown away by this band- you must see them if you can!"
- Jeremy Vine, BBC Radio 2
At such a troubling time for the live events industry, From The Jam (Bruce Foxton and Russell Hastings) have created a series of socially distanced, limited capacity shows, that will adhere to all current safety restrictions for 'An Audience with' the band. These intimate shows will feature Bruce and Russell playing acoustically, along with personal stories from a lifetime in music.
"Both Bruce and myself are dying to get back out on the road doing what we do best! It's been a very difficult year for everybody and we're sure this will bring a sense normality back to all who come including ourselves," says Russell.
From the Jam is comprised of legendary former 'The Jam' bassist Bruce Foxton, vocalist & guitarist Russell Hastings. Russell Hastings has been the only front man to work with both Rick Buckler and Bruce Foxton since The Jam disbanded and has been earning the respect of fans across the world with his passion, knowledge of the band's work and his stellar performances.
Forming in 1977, The Jam had 18 consecutive Top 40 singles and all six of their studio albums made the Top 25 in the UK Album Charts. With albums such as The Gift and Sound Affects reaching No.1 and No.2 respectively, The Jam are well known for their iconic catalogue of songs such as The Eton Rifles, Going Underground, That's Entertainment and many more.
Alongside performing iconic songs by The Jam, 'From the Jam' have also released two critically acclaimed records (Back in the Room & Smash the Clock) in 2012 and 2016 respectively and in 2017, the band reached the Top 10 in the UK with their live album, 'From the Jam – Live!'