Northgate Folk Festival
Alexander's Live, Chester.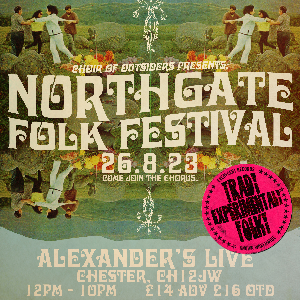 More information about Northgate Folk Festival tickets
- Under 12s free

- Outdoor festival in the Alexander's Live garden

- Outdoor bar and food available courtesy of The Venetian


Choir of Outsiders presents Northgate Folk Festival, an experimental and contemporary folk all- dayer set in the heart of Chester. Nestled within its ancient Roman City Walls, this new event seeks to celebrate the wyrd and wonderful traditional talents of these Isles.

Our headliner is leading purveyor of experimental Celtic music, Scottish smallpipes player Brìghde Chaimbeul. Her mesmerising piping has earned her a BBC Young Folk Award and BBC Horizon Award, and recently she featured on Caroline Polachek's ground-breaking album Desire, I Want To
Turn Into You.

Chaimbeul's sophomore album Carry Them With Us is an exhilarating weave of rich textural drones, trance atmospheres and instrumental folk traditions, featuring renowned Canadian saxophonist Colin Stetson (Arcade Fire, Bon Iver). Her debut The Reeling was also met by similar widespread acclaim.

Named Folk Album Of The Month by The Guardian - who called it "simultaneously ancient and modern, profound and direct" - it garnered five star reviews across the board.

Progressive folk nine-piece Shovel Dance Collective uncover proto-feminist narratives and queer histories in their interpretation of traditional music, boldly making heard the voices of the working people. Tradfolk described their most recent record as "one of the best albums of 2022, if not the last five years" and rightly so, placing them at the forefront of a new generation of politically conscious traditional folk singers.

We're also delighted to host one of the foremost songwriters working in Wales today, captivating soloist The Gentle Good. He will be joined by the many-tassled, multi-talented Toria Wooff, a break out act in the North West; the highly-idiosyncratic, hypnotic banjo player Jacken Elswyth; velveteen voiced singer-songwriter Calum Gilligan; Lancashire broadside ballad singer and actor in Shane Meadows' new BBC series The Gallows Pole, Jennifer Reid, and many more.

Festivalgoers can also expect appearances from local Morris dancers and music from Bobby Lee, who will be performing in the afternoon and on DJ duties throughout the day.

Full line-up:



Brìghde Chaimbeul / Shovel Dance Collective / The Gentle Good / Toria Wooff / Jacken Elswyth / Calum Gilligan / Bobby Lee (solo & DJ set) / Jennifer Reid / Milkweed / Robbie Caswell-Jones




Come join the chorus.