Stepping Tiger: Special Reggae All-Dayer
Alexander's Live, Chester.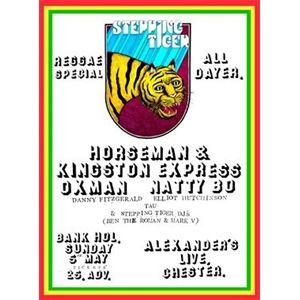 More information about Stepping Tiger: Special Reggae All-Dayer tickets
Stepping Tiger presents...
Special Reggae All-Dayer
May 5th ~ Bank Holiday Sunday
ALL AGES SHOW
£5 advanced tickets [under 12s free entry]
Important
~ Please note under 18's are required to be off the premises by 9PM due to licensing.
•
Line up:
Horseman and Kingston Express
Oxman
Natty Bo
Danny Fitzgerald
Elliot Hutchinson
Tau
Stepping Tiger DJs [Ben the Roman & Mark V]
•
Horseman
Following three decades of working with the creme de la creme of the reggae world, Winston Williams aka Horseman stepped into the spotlight in November 2014 with his Prince Fatty produced album, 'Dawn Of The Dread'.
As fearsome a drummer as he is an MC, Horseman has worked with some of reggae's finest performers, including Max Romeo, Jah Shaka, Barrington Levy, Eek A Mouse and John Holt.
A big personality maybe, but there's not an ego to match. Horseman's ethos is to spread love - "If my music brings joy into someone's life then that's my aim. It's there to make people happy".
Whether he's performing with a sound system, selector or full band, a Horseman show guarantees positive vibes.
Kingston Express
Kingston Express is a record label from Birmingham, founded in 2016 by Roots Reggae studio engineer and producer Sticky Joe.
Based out of his studio in Moseley, Sticky Joe has taken Kingston Express onto German television, BBC Radio 6 Music, BBC 1Xtra as well as licensing music to Warner Brothers and the United Nations with hits such as "Good Day" ft Macka B, "Stress Out" ft Horace Andy and "Giddy Up" ft Horseman. His work with Macka B saw Kingston Express featuring on BBC World Service, BBC Radio and the BBC News Website. Sticky Joe is credited with creating the backing tracks to some of Macka B's finest work including "Lyrical Chef" which was part of the album "Health Is Wealth". "Reggae Artist Macka B's Healthy Eating Anthems are Naomi Campbell-Approved and Utterly Addictive" US Vogue Magazine 2017.
In 2016 Kingston Express released Sticky Joe's "Good Day" EP, with the title track ft Macka B and "Champion" ft Parly B both featured on David Rodigan's BBC radio show, along with many others since. Sticky Joe came back with Kingston Express and released the "Kingston Connection" EP featuring Horace Andy, Macka B, Johnny Clarke, Solo Banton, Earl 16, Cheshire Cat, Horseman and Robert Dallas.
Kingston Express Records is currently working on a new full album featuring Horseman, Macka B, Cheshire Cat, Amelia Harmony, King Lorenzo, Tom Spirals, and Longfingah, due for release in 2019.
"All aboard the Kingston Express!" (Rebelbase.be)
•
Oxman
Legendary selector! Soul Jazz Crew. Oxman reggae specialist DJ & MC. He joined us last July and hosted an incredible night - the courtyard was rammed with happy dancers and the vibe was unreal. Ox is a seasoned and original DJ - not to be missed.
•
Natty Bo
"Natty Bo is an internationally ren­owned DJ, MC, singer, dancer, and artist. He grew up in Thames­mead in South East London and started digging music at a young age. His vast record collect­ion of 45rpms, 78rpms and LPs is much envied and includes jump blues, rock 'n' roll, swing, Latin jazz, gospel, soul, funk, ska, rock­steady, reggae, son, mambo, calypso, mento, cumbia, Township jive and other vintage Tropical rhythms. As well as performing with his bands: Ska Cubano, Top Cats and Natty Congeroo & The Flames Of Rhythm, Natty is a resi­dent DJ at Soho's famous Thursday night club, Gaz's Rockin' Blues. He also spins records on Gaz's sound system at Notting Hill Carnival each year and is in great demand as a guest DJ. As bandleader of the hugely popular Ska Cubano, Natty won wide­spread critical acclaim, and he still performs regularly around the world. His albums can be bought on Amazon.
Over the years, Natty has run clubs of his own such as Killer Dillers, Bakelite Bop and Brixtown Special. With over 30 years experi­ence under his belt, Natty's skills as a selector and deejay are second to none. As a dancer, he knows what works and is guaran­teed to keep the dance­floor jumping." [right-on. org]
•
Danny Fitzgerald
"Danny Fitzgerald has recently produced Calypso and Highlife compilations for renowned London label Soul Jazz Records. His selections of Jazz-based music from the Caribbean, Latin America, West Africa and beyond have warmed stages for the likes of Quantic, Norman Jay, and Gilles Peterson."
•
Elliot Hutchinson
"Counter guru at Liverpool's Dig Vinyl, Elliot has brought forgotten 45's to the younger generation for over a decade - having hosted parties for Motown legend Martha Reeves and warmed the stage for Betty Harris, he has shaken major festival tents alongside his Manchester residency Howling Rhythm and even represented Stax Records! His most recent outings have been supporting Pama International, Smoove & Turrell and Get The Blessing."
•
Tau Local legend DJ Tau has been gracing the decks within our walled city, & beyond, for well over a decade. His sets never disappoint - packed with bangers, rolling rhythms & an extensive knowledge of bass culture. Inspiring younger folk, from early, to jump behind the wheels. • Stepping Tiger DJs [Ben the Roman & Mark V]