The Animals and Friends
Alexander's Live, Chester.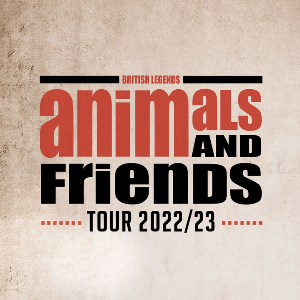 This event is for 18 and over - No refunds will be issued for under 18s.
More information about The Animals and Friends tickets
John Steel
Born in Gateshead in 1941,John attended Gateshead Grammar School. As a child, he and his siblings took piano lessons, though only John would go on to
have a career in music. Growing up, he was first exposed to the records of Bing Crosby, Al Jolson, Fats Waller, and Sid Phillips.
John's first instrument was the trumpet. His musical influences initially came from traditional jazz, Louis Armstrong, Jelly Roll Morton, Bix Beiderbeck etc. but he later drew influence from modern jazz. When he switched to drums, he was inspired by jazz drummers such as Elvin Jones, James Cobb, Roy Haynes, Art Blakey.
"When I played drums rather than trumpet I never felt really confident enough, because the people I was influenced by and admired were jazz drummers, There was no way I was going to be that good so I never considered myself good enough to aspire to that kind of thing. But somehow I just accidentally fell into Rock 'n' Roll and R&B."
John met the future lead singer of The Animals, Eric Burdon-
http://ericburdon.ning.com/-
in the first year class at the Newcastle College of Art and Industrial Design in 1956. They shared a love of American films, books, and most of all music. They started a band and called it The Pagan Jazzmen but quickly switched from jazz to embrace the new rock 'n' roll explosion; they became The Pagans.
In March 1959 The Pagans played a church hop in Byker, Newcastle, a guitarist from another band sat in on piano, his name was AlanPrice,
http://alanprice.com/-
he was persuaded to join The Pagans.
In 1960, with the addition of three brass, they changed the name to The Kansas City 7 playing K.C. style blues. In 1961 two brass players moved to Manchester and they became the KC5 or the KC several, depending on who turned up for a blow.
1962 saw the breakup of the band when Alan Price was poached by The Kon-Tors a group who's line up included Chas Chandler. John Steel then turned professional when he joined a trio playing caberet clubs.
After a few months Alan became dissatisfied playing pop covers and formed a splinter group with some of The Kon-Tors including Chas, and with the addition of Eric Burdon as lead singer. Alan insisted they performed as The Alan Price Rhythm and Blues Combo. Despite the awful clunky name they quickly built a strong following in Newcastle.
Late August 1963 Chas approached John Steel asking him to join the combo as the existing drummer was "getting up everybody's nose". John agreed to the proposal and the date was set for September 8th. In the meantime, the band's tenor player left for university and was replaced by Hilton Valentine on guitar-
http://www.hiltonvalentine.com
- and The Animals, in all but name, was born. The name change came about in December '63. John went on to play and record with them until March 1966. His last charted single with the group was "Inside Looking Out "
Mickey Gallagher
Born 29 October 1945 in Newcastle upon Tyne, England and best known as a member of Ian Dury and the Blockheads
http://www.theblockheads.com/
and for his contributions to albums by the Clash. He has also written music for films such as Extremes (1971) and After Midnight (1990), also the Broadway play Serious Money (1988).
Mick started his musical career with The Unknowns. He played with the Animals during 1965, replacing founding member Alan Price. He moved on to form The Chosen Few, where he played alongside Alan Hull, who later formed Lindisfarne. Other associations include Skip Bifferty, Peter Frampton's Camel andCochise.
His Hammond sound was a major contribution to Ian Dury and The Blockheads. He played on two of the most influential Clash albums, London Calling (1979) and Sandinista! (1980),[3] and made live appearances with the band, also playing on their last album Cut the Crap (1985), for which he never received a credit.
Mickey worked with Clash drummer Topper Headon again when they recorded Headon's Waking Up (1986), appearing with Bobby Tench and Jimmy Helms. He has also performed and recorded with Paul McCartney, Robbie Williams, Dave Stewart and Annie Lennox.